Contract Manufacturing
Contract manufacturing of pharmaceutical products is a new business area for Alfresa Pharma.
In addition to the preparation facility that began full operations in 2009, we aim to establish a foundation asa commissioned manufacturing business with a new packaging facility that conforms to GMP requirement sand is scheduled to begin operations in January 2014. At present, we are conducting contract manufacturing of solid and liquid agents in standard sizes from 5 mL to 500 mL for domestic and foreign pharmaceutical manufacturers. For liquid agents, we are capable of aseptic filling from glass containers to PE containers,and we also support systematic packaging from paper cases to shrink labeling and shrink film packaging.In addition, we also support plug and cap containers as well as pump reservoirs.
In solid agents, mainly sugar coated tablets, we are moving to high-efficiency production conforming to proper scale and sanitary containment standards. We are also introducing new dosage forms and manufacturing methods to increase our contract manufacturing performance.
Our strengths in liquid/solid agents
Liquid Agents
Aseptic filling from glass to PE containers
Supports 5-to-500 mL containers
Consistent packaging support (paper casing, shrink labeling,
shrink film packaging, etc.)
Capability in internal plugs, cap containers and pump reservoirs
Manufacturing using first and second-grade petroleum products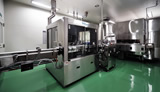 Solid agents(mainly sugarcoated tablets)
Hygienic (containment), effective production (to proper scale)
FC machines with broad production scale (flexible sugarcoatedtablets, FC tablets to irregular shaped tablets)
Actions to achieve new dosage forms and manufacturing methodsin the future
(Four rooms set aside to future needs)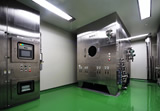 Commissioned formulation possibilities
We use the following process for dosage forms in commission formulations.
Dosage Form
Manufacturing Process
SolidAgents
Tablets
Weighing, Granulation/Tableting, Sugarcoating, Printing, Inspection, Packaging, Display
Liquid Agents
Internal Use Liquid Agents
(Aseptic Filling Possible)
Weighing, Dissolution, Filtering, Plugging, Packaging, Display
External Use Solid Agents
Weighing, Dissolution, Filtering, Plugging, Packaging, Display
Production capacity
Manufacturing capacity, including near-future capital investment
Dosage Form
Accommodated Items
Manufacturing Capacity/Year
Solid Agents
Tablets
Uncoated Tablets
600 million
Sugar/Film-Coated Tablets
1 billion
Liquid Agents
Internal Use Liquid Agents
30-500mL
3 million
5-50mL
14 million (10 mL capacity)
External Use Liquid Agents
5-500mL
More than 1 million
Liquid Agents facilities
Liquiid Agents B line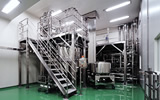 Preparation 2t/5t tanks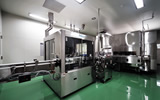 Container cleaning, drying,
sterilization equipment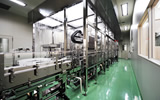 Filling machine (30-500ml)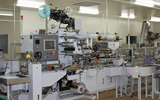 Packaging equipment
Liquiid Agents D line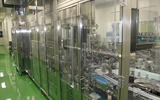 Filling machine (5-50ml)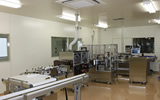 Packaging equipment
Solid agent facilities 1
High-speed tableting machine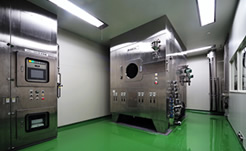 Coating machine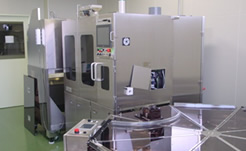 Automatic tablet inspection machine
Solid agent facilities 2
Liquid agents

Nine contract manufacturing customers (two foreign customers)
10mL (PE container)

*grade 1 petroleum products - 1.25 million
10mL (PE container)

- 6.2 million
120mL (PE container)

- 480,000
500mL (PE container)

- 150,000
Other

30mL/100mL/250mL/500mL (glass container) - 200,000
Solid agents

Five contract manufacturing customers (two foreign customers)
Tablets (uncoated tablets, sugarcoated tablets, film-coated tablets) - 80 million
Dry syrup, granules, powders