API Business
Importation of active pharmaceutical ingredients(API)
API Sales Department is handling variety of APIs, which are the active ingredient of pharmaceuticals, imported from all over the world in addition to those by Japanese manufacturers including our subsidiary Alfresa Fine Chemical Co., Ltd. At the same time, along with quality control by highly GMP managed in-house QC department and contract testing institutes, we are committed with GMP based management and maintenance of our supply chain by systematically conducting audits of overseas manufacturing sites through close communication with the Pharmaceuticals and Medical Devices Agency (PMDA) and the overseas manufacturers as the drug master file care-taker.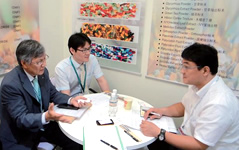 We import pharmaceutical raw materials and functional food ingredients which are less available in Japan.
Classification
Product name
Pharmaceuticals
Pharmaceutical raw materials
Active pharmaceutical ingredients (APIs)
Food-related products
Functional food ingredients
Edible fish(bonito)
Elastin K
Lo-han-kuo (Siraitia grosvenorii) extract powder
RAKANKA EP-30
New Zealand pine bark extract
Enzogenol
etc.